Tags
Alarm Clock, Architectural Digest, Digital Photography, Gift Baskets, Gift Cards, Leather Goods, Luggage, Transportation, Wall Street Journal, Walmart, Xperience Days
10 Non-Cash Gifts for High School Grads on their way to college, trade school, or graduate school (in no particular order)
1.  A leather backpack or tote – Here are two favorites (hover over the image for more information or click on the photo to open a new window and go to the retailer's website)…
2.  Put them a step ahead with a subscription to a publication related to their major or a hobby – Online and print options are available for many publications and they don't have to be too cerebral…whether it is the Wall Street Journal, Architectural Digest, Vogue, American History, Digital Photography, or Bon Apetit they are sure to enjoy and learn something useful while perusing one of these during a well-deserved study break.
3.  An alarm clock sure to get them to their 8:00 a.m. classes - For some folks a traditional alarm clock just won't do.  If your grad is one of them, try an alarm clock that shakes the bed or runs away and hides! (hover over the image for more information or click on the photo to open a new window and go to the retailer's website)…
4.  Tickets to their favorite school sport – Colleges and universities generally offer discounted tickets to their students, and a quick visit to the school's athletic department website should show ticket prices and package options.   Whether it's season tickets to cheer on the football team or two tickets to watch the school annihilate its basketball rival, any sports fan will be grateful!
5.  A gift basket – These may take a little more work than some of the other ideas, but they are sure to be appreciated.  There are so many ways to be creative with this one; here are just a few suggestions…

Office & school supplies –  consider including items like printer paper, printer
ink refills (you'll have to do a little research for that one), highlighters, pens,
sticky notes, a desk set, and a gift card to a local office supply store,
Wal-Mart, or Target, etc.  A set of small plastic drawers on wheels with a bow
on top and the goodies inside would be a fun and useful alternative to a basket.

Laundry supplies -  laundry baskets, bags and/or sorters, soap, fabric
softener, an iron and small ironing board, and, of course, rolls of quarters;
this may not be the coolest gift your grad receives, but they will remember
you fondly when they don't have to dig between the seats for quarters on
the way to the laundromat!  Even if they are experienced with laundry, don't hesitate to include a laundry guide (try printing this one from Real Simple).  A decorated laundry bag (with their name or school mascot) would be a great way to "wrap" these up.

Tailgate supplies – if tailgates are popular at your grad's school, putting
together things like a stadium blanket in school colors, a team t-shirt, jersey,
or sweatshirt, a picnic basket, a small, portable grill, and some grill tools
should be a great start.  If you really want to surprise them, add some
tickets from Idea 4.  Tie a bow on top of the grill with all of the goodies
hidden inside!
6.  Luggage - Even if your grad isn't planning a semester abroad just yet, they will undoubtedly be coming home for weekends and holidays and will need something to carry all of that dirty laundry!  This makes a great group gift option (hover over the image for more information or click on the photo to open a new window and go to the retailer's website)…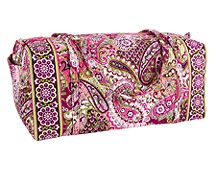 7.  Transportation necessities - Regardless of how they travel, there's nothing worse than being stuck….

Car – This idea may possibly be less cool than the laundry supply basket, but
it is definitely important if your grad is taking a car to school.  Equip them
with a road kit including items like a good flashlight, a utility tool such as a Swiss Army Knife or a Leatherman, road flares, a set of jumper cables (or even better, a jump starter), fix-a-flat, a first-aid kit, pepper spray, a roadside assistance service subscription (like AAA, Mr. Rescue, etc.), a Bluetooth headset and car charger for their cell phone, a GPS unit or GPS cell phone service, and even maps of the area, especially if they are going away to school (and yes, the kind of maps printed on actual paper…GPS is a gift from God, but signals fail and directions can be wrong). A good jack and lug wrench that are compatible with their car is also crucial.  And be sure your grad (boy or girl) knows how to check their oil, change a tire, add fluids, etc.  If it isn't possible for you or a friend to teach them, include a guide like The Driving Book:  Everything New Drivers Need to Know but Don't Know to Ask, Every Woman's Quick and Easy Car Repair: A Worry-Free Guide to Car Troubles, Trials, & Travels, or Auto Repair for Dummies.

Public transportation – if your grad is going to school in a large metropolitan area or will be using the school's transportation system, consider giving a metro or bus pass.  If you're going all-out, consider adding a tablet or e-reader to help make the commute really productive.

Bike – For grads who'll be pedaling their way around town, accessories like a water bottle, chain repair tools/kit, flat tire repair, pepper spray, lock, and a bike GPS can be invaluable.
8.  An "In Case of Emergency Only" Card - a prepaid credit card that comes with a kind message that it is for use only in emergencies.  Everyone finds themselves in a bind from time to time, for whatever the reason, and an "emergency only" card might be what gets your grad out of a tight spot.   You can spell out what you consider to be an emergency situation…things like gas, a new tire, groceries, a cab ride home from a bad first date, etc.
9.  An experience in their new town/at their new school – Have an adventurer headed for Austin?  Why not get them a hang gliding flight lesson!  A boat-lover on their way to Boston?  They're sure to enjoy a Cape Cod Bay Sunset Lighthouse Cruise or a Salem Sound Schooner Sail.  Or maybe your grad is a foodie en route to Philly?  Try a Flavors of Philadelphia Food Tour.  Other options:  tickets to an event at a museum, playhouse, or performance hall; tickets to a professional sporting event; admission to a special event at their school (check the school's website…maybe The Dead Sea Scrolls will be on campus for a semester or maybe the school hosts a guest lecture series related to their major), season tickets to an amusement park…the options are endless, but the goal is to get them out and about in their new town and give them a fun way to step away from the books for a few hours!
10.  A gift card – Gift cards can certainly seem somewhat impersonal, but there are times when they really are the perfect gift!  (A quick note:  some gift cards have an expiration date, on which the balance of the card is forfeited.  That doesn't have to be a deal-breaker, just be sure you let the recipient know about it.)  Here are some examples of gift cards that are sure to be used:
Campus bookstore - between books, supplies, and t-shirts, the balance on this card may be gone in their first week on campus!  Many stores offer the ability to purchase gift cards over the internet.
Campus cafeteria/restaurant near campus/coffee shop – while you may not want to contribute to the infamous "freshman 15," this one is sure to appreciated.
Electronics store/website – this can be a huge help to a grad who is saving for a computer, printer, tablet, e-reader, iPod, new cell phone, etc.  Don't hesitate to check with the grad's parents to find out if there is a particular store they prefer.
Tune in tomorrow for Grads…Part III…Grads Transitioning into the Workforce (the last post in the series)!
© Amanda Simpson and Giftitecture, 2012. Unauthorized use and/or duplication of this material without express and written permission from this blog's author and/or owner is strictly prohibited. Excerpts and links may be used, provided that full and clear credit is given to Amanda Simpson and Giftitecture with appropriate and specific direction to the original content.